We have interview and filmed our students. Take a look at what they think of the Captain Language method.
A team available to you
Have any questions before, during or after your course? Our team is there if you need them.
Print
Do you like to have written aids? No problem. At any time, you can print efficient sheets.
Quizzes, MCQ's, cloze exercises
With Captain Language, progress quickly with various exercises!
Measure your progress
At the end of every lesson, test your achievements and appreciate your progress throughout the course of your training.
5 languages to choose from
Boost your English, Spanish, German, French or even your Dutch with Captain Language.
Multi-screen
Educate yourself from your computer (Mac or Pc), your tablet or your smartphone.
Compatible with Mac, PC, tablets and smartphones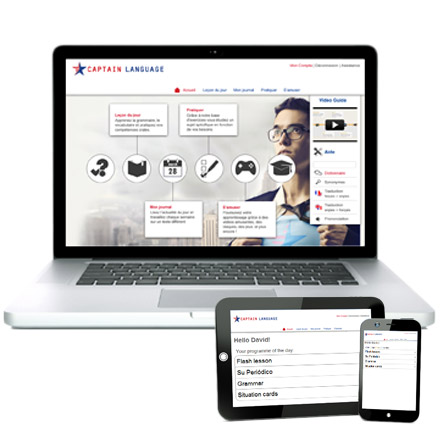 Choose a language
Are you between 16 and 116? Do you have a computer, a tablet or a smartphone? Do you want to progress in a language without constraint and at your own pace? Captain Language is for you!
Improve your level in one of 5 languages of the programme online (English, Spanish, French, German or Dutch), and educate yourself no matter what time of the day or night.
Note: Enjoy the full version of the captain Language e-learning solution on your computer. On the road or would just prefer to connect using your smartphone or tablet? You can access the light version created especially for mobile devices.
Measure your level with this test, complete in 30 minutes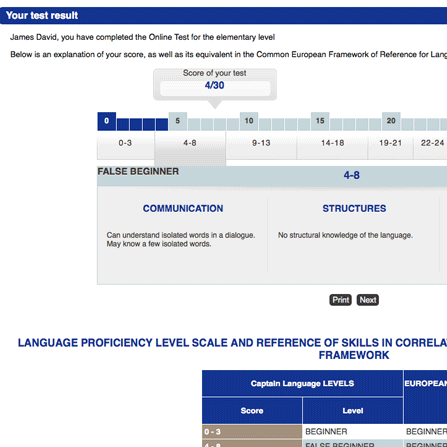 Test your level
To really enjoy educating yourself, it is important to have a course adapted perfectly to your level and objectives. Before beginning the course, take the level test. This allows perfect measurement of your achievements and also your areas for improvement, configuring the programme to suit your profile.
Quizzes, MCQ's, cloze exercises. Multiple different varieties of exercises!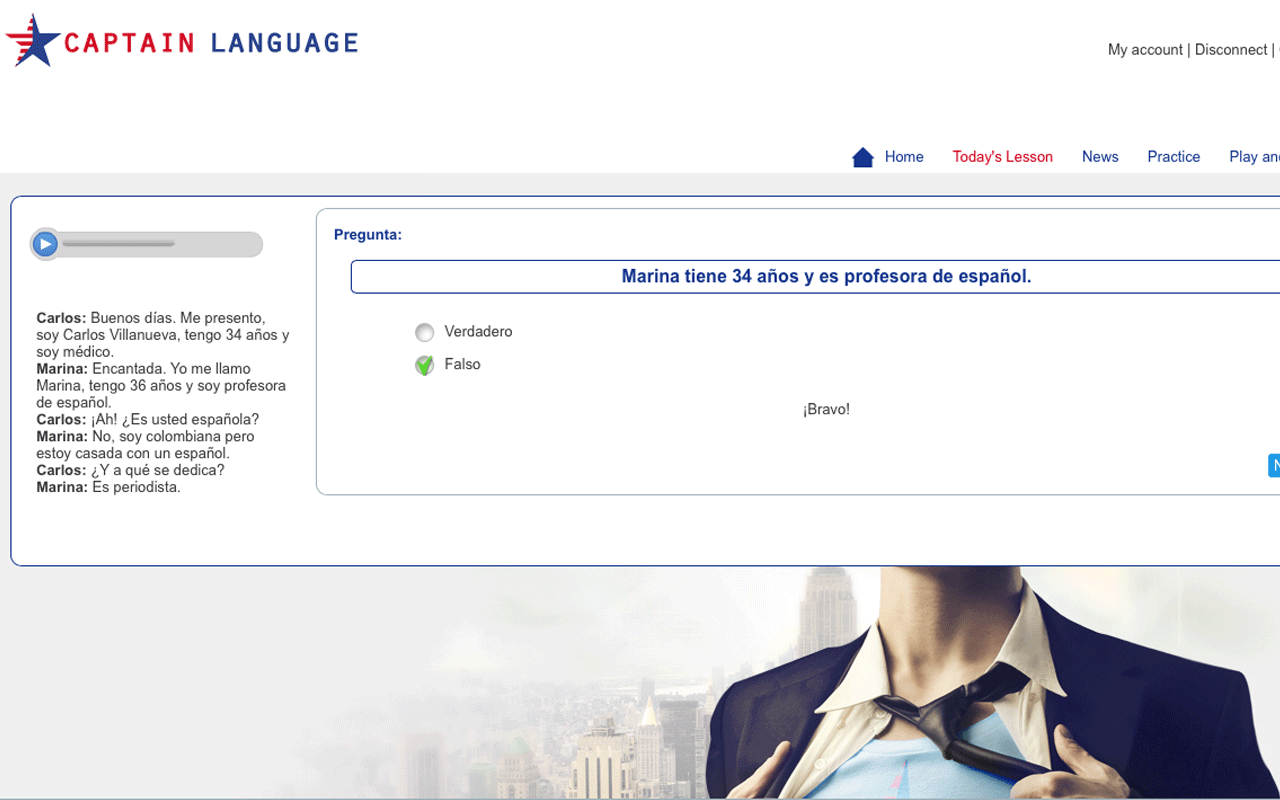 Accomplish your assignments
Work on the subjects of daily or working life, completing the assignments in 30 to 45 minutes.
Hundreds of lessons in which "presenting yourself", "getting acquainted", "asking for and giving directions" and "reserving a hotel room" are included…many different scenarios that will allow you to be efficient during your next trip, or as part of your job.
Exercises designed for fast and easy learning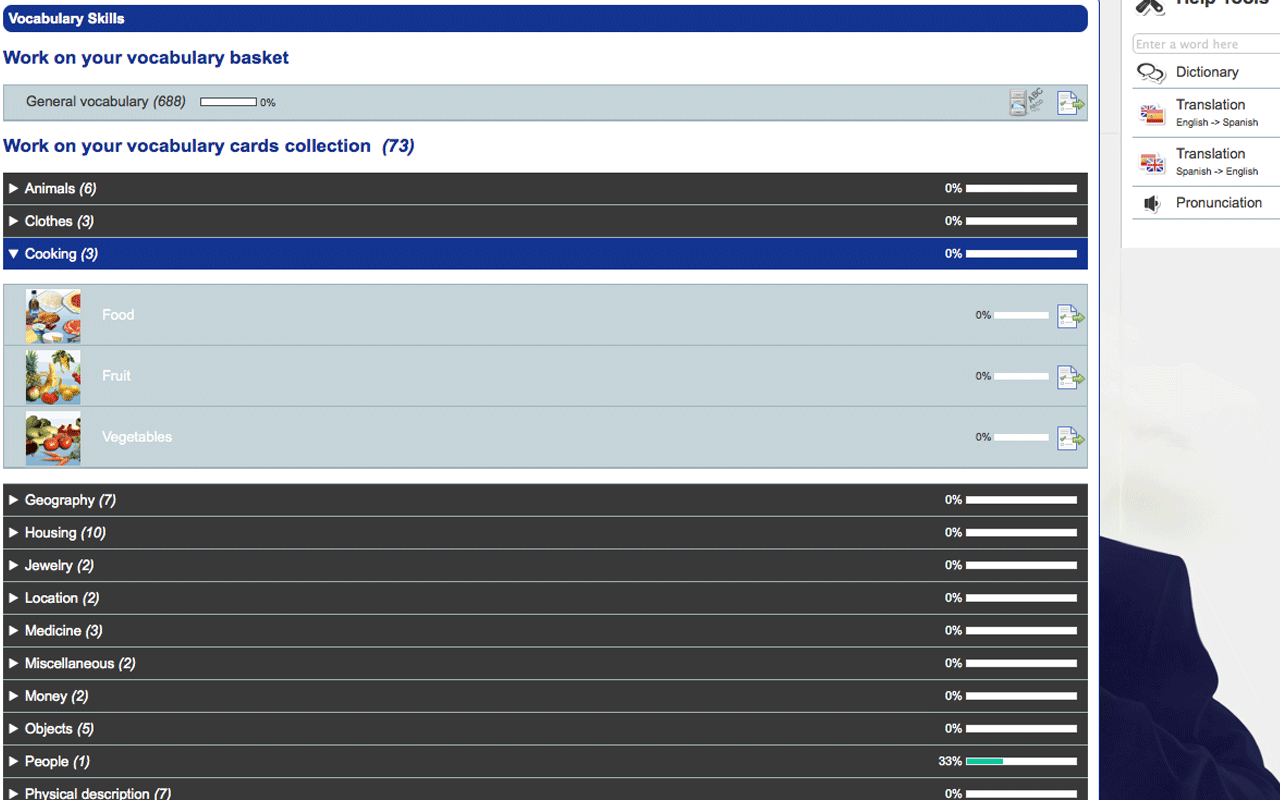 Enrich your vocabulary
Learn all the indispensable words to communicate in your future language.
Discover the significance of hundreds of words, listen to them and repeat them correctly.
You can also work on visual vocabulary on particular themes: people, objects, animals, sport, clothes…
Test your achievements by completing grammar exercises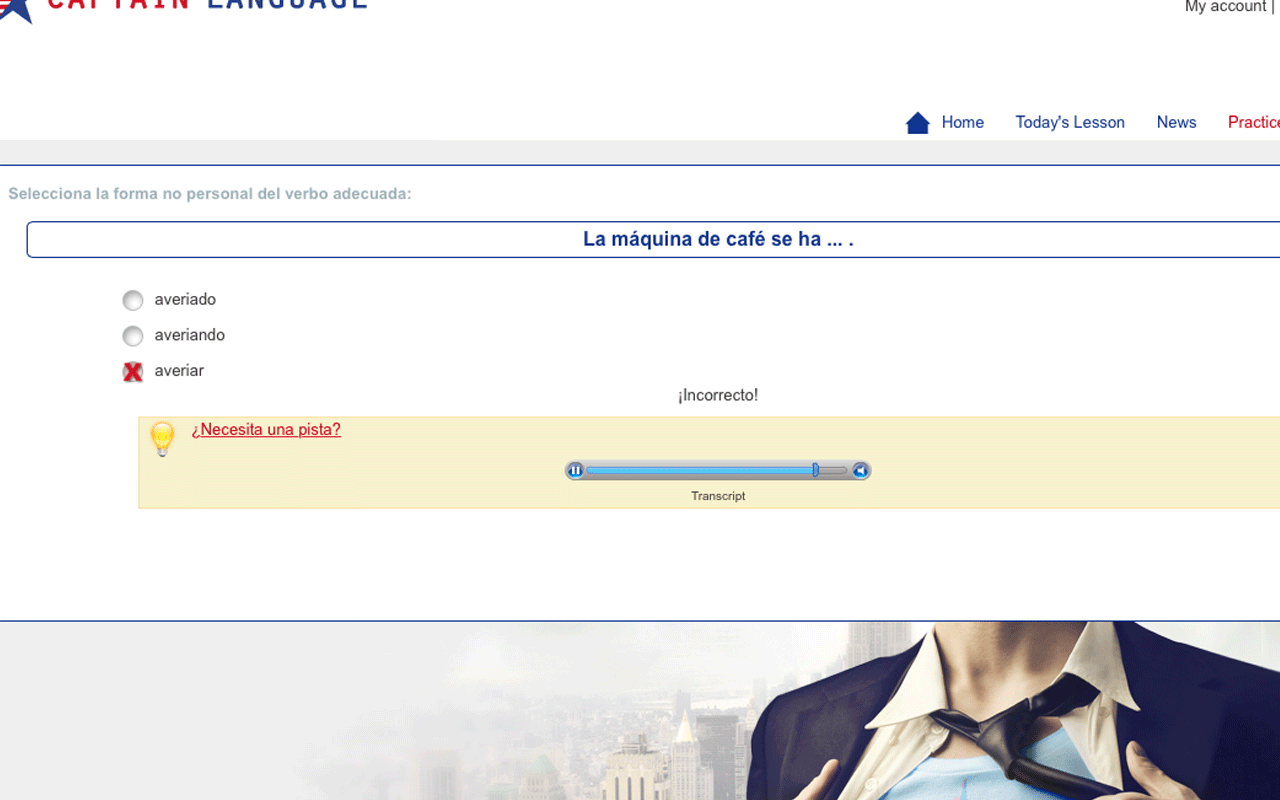 Work on your grammar
You want to work on one grammar point in particular? Learn or revise articles, auxiliaries, pronouns, "question tags", tenses…you will be required to do exercises on them.
Of course, you can print the pedagogic sheets at any moment to keep them.
Several different themes to exercise comprehension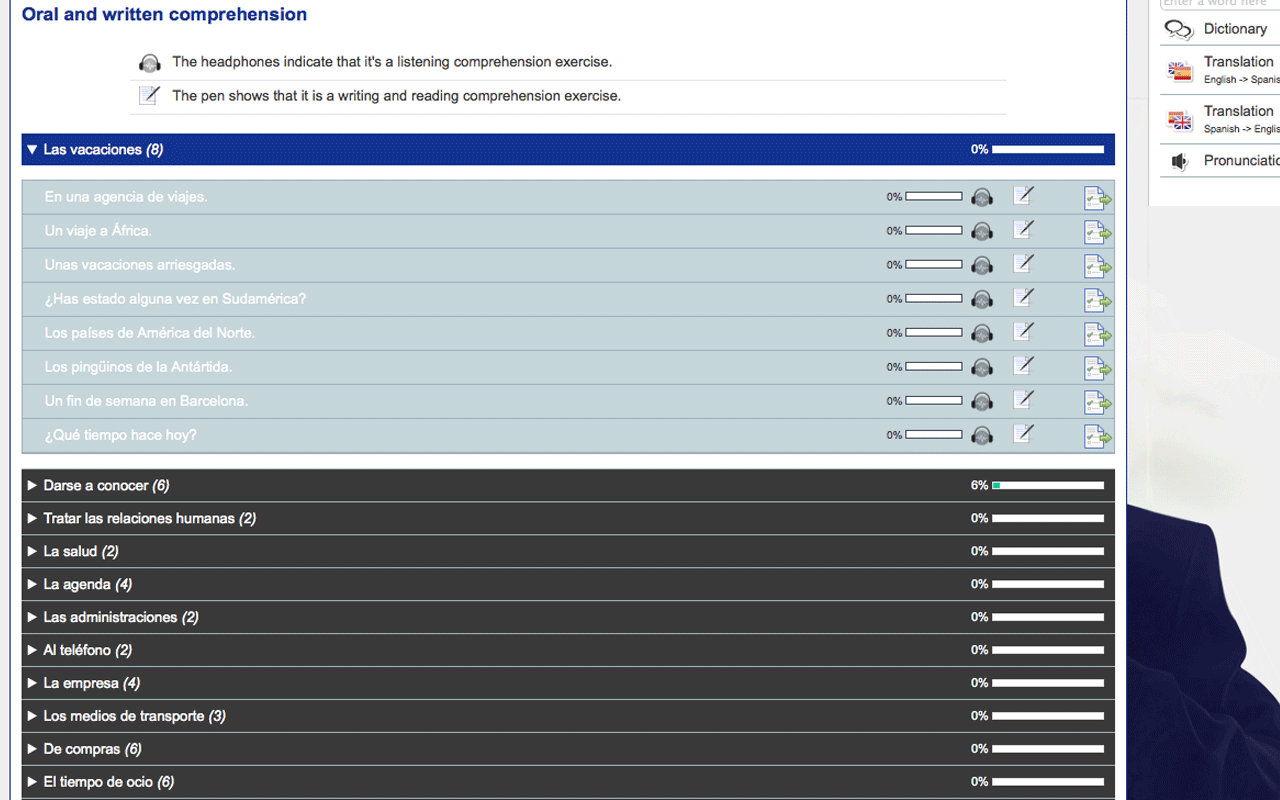 Boost your comprehension
Work on subjects of daily life.
Learn how to ask the time, ask for directions, taking a taxi, changing an appointment...
Also learn how to become acquainted with someone, express your tastes, talk about others or indeed talk about yourself.
Bonus: Several videos to improve your comprehension.
Train yourself to pronounce phrases correctly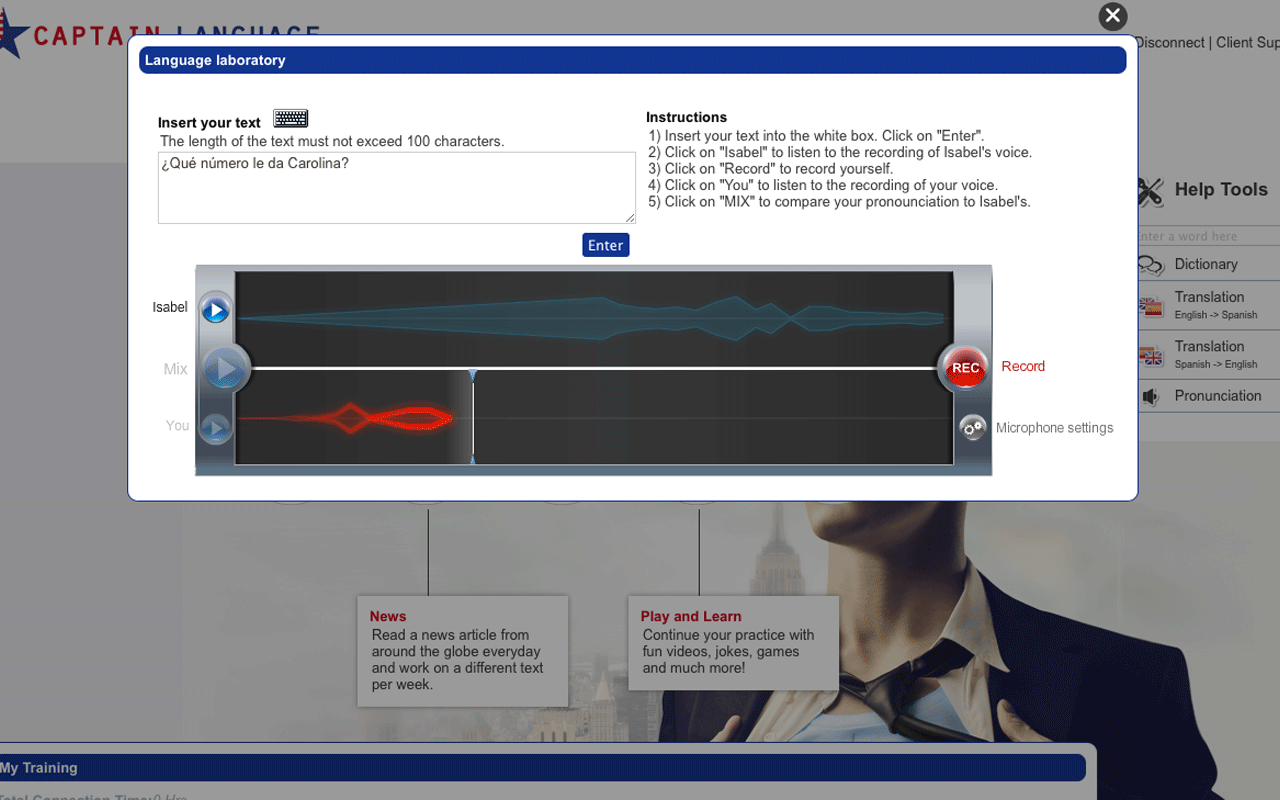 Correct your pronunciation
Thanks to the language laboratory, express yourself in one of 5 languages of the programme, learning and repeating words or useful expressions : expressing your agreement or disagreement, speaking on the telephone, becoming acquainted with someone, talking about your family or your job…
The more you pronounce correctly, the more points you score!
Listen to or read the news, then complete the exercises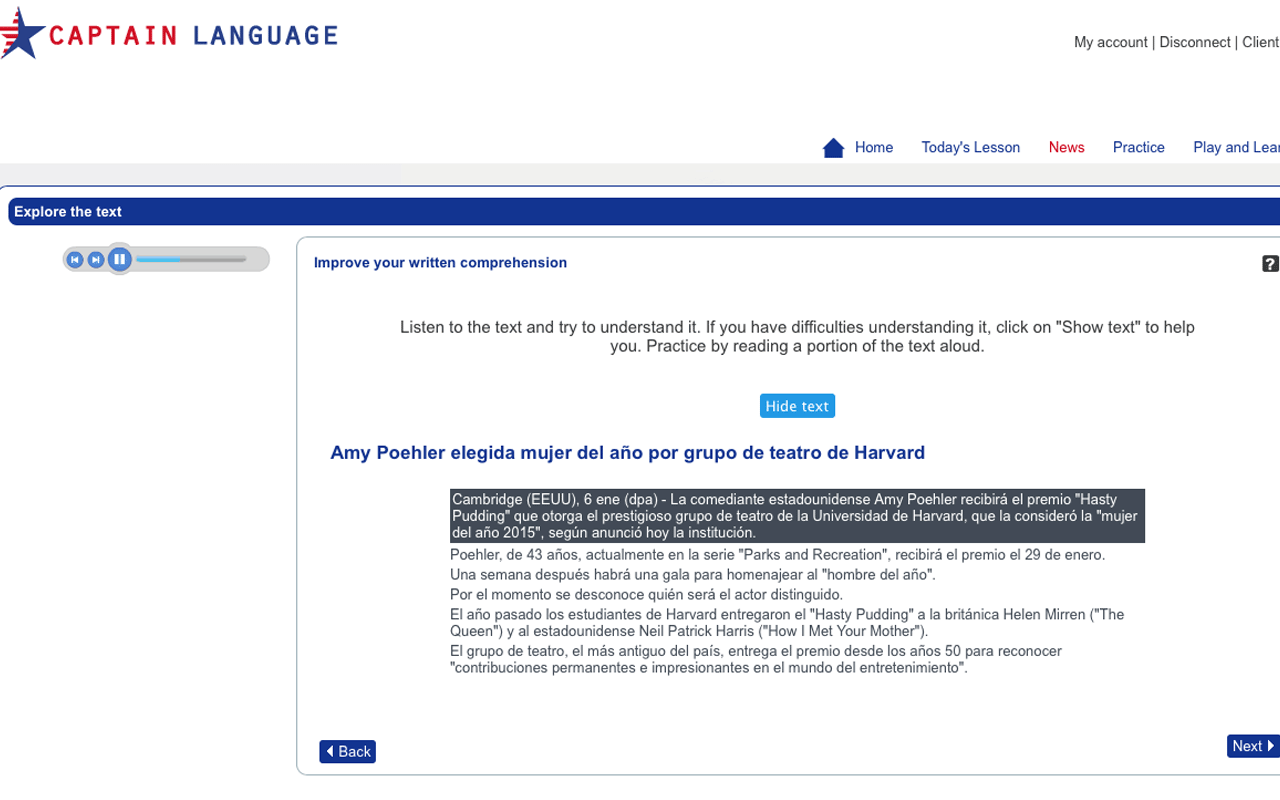 Study the news
Every day, Captain Language selects for you numerous news articles. You will also work on the subjects on which the media is speaking.
Bonus: Work on your own texts! A simple copy-paste of one of your texts (or an article published on the internet) allows you to create unique exercises.
Every week, a new video to discover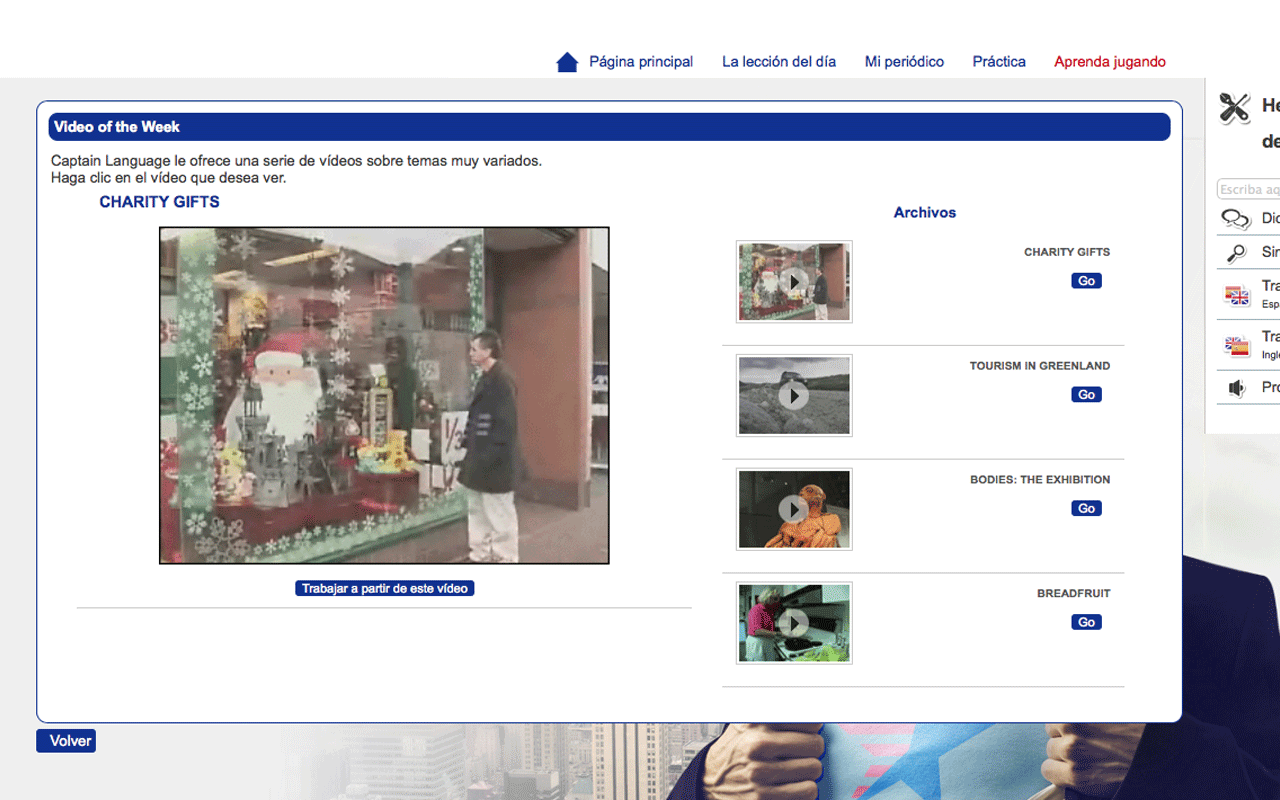 Watch videos
Progress while watching videos selected by Captain Language, and then complete the exercises on the addressed vocabulary, as well as on the general comprehension of the video.
Information : The videos are accessible for learning English only.
Double-click to find the significance of a word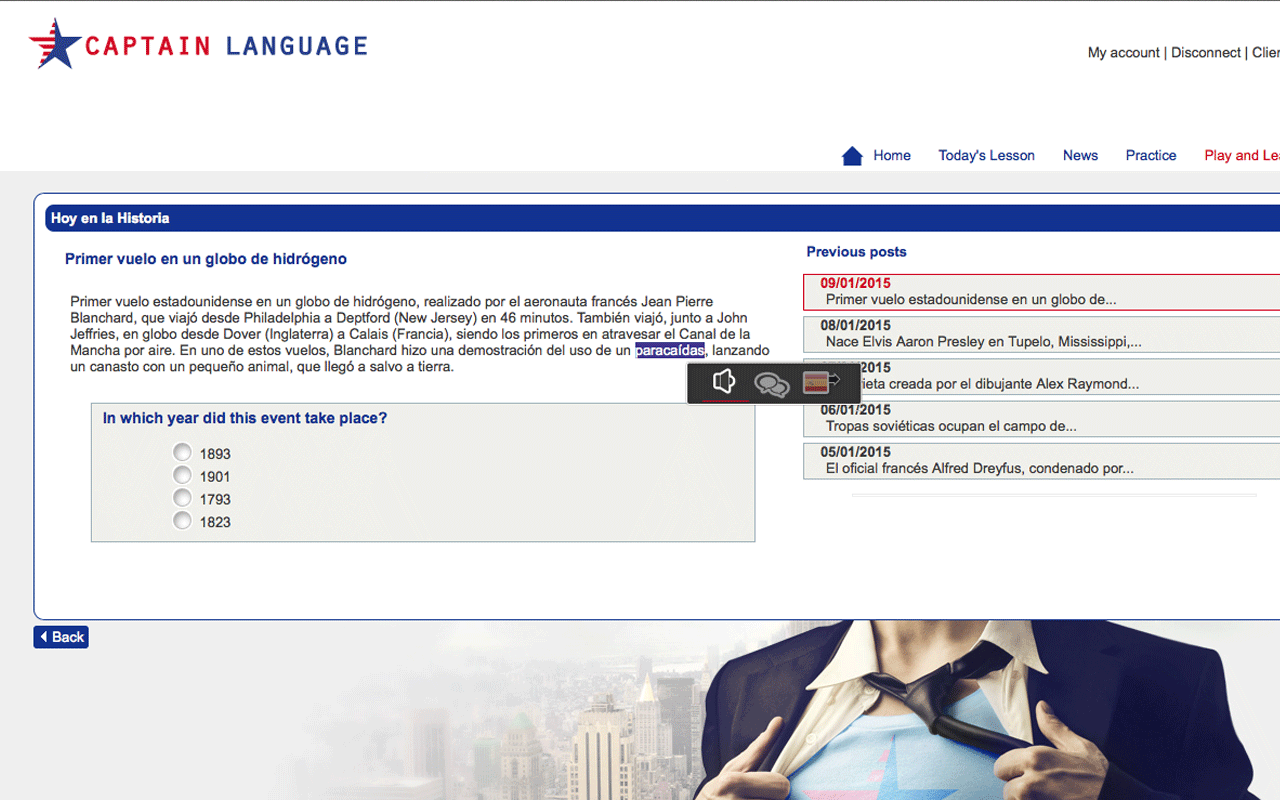 Simply translate
At any moment, you can find the significance of a word, its translation, listen to it and then pronounce it. How? Simply double-click on the word that you don't know (yet!)
Congratulations!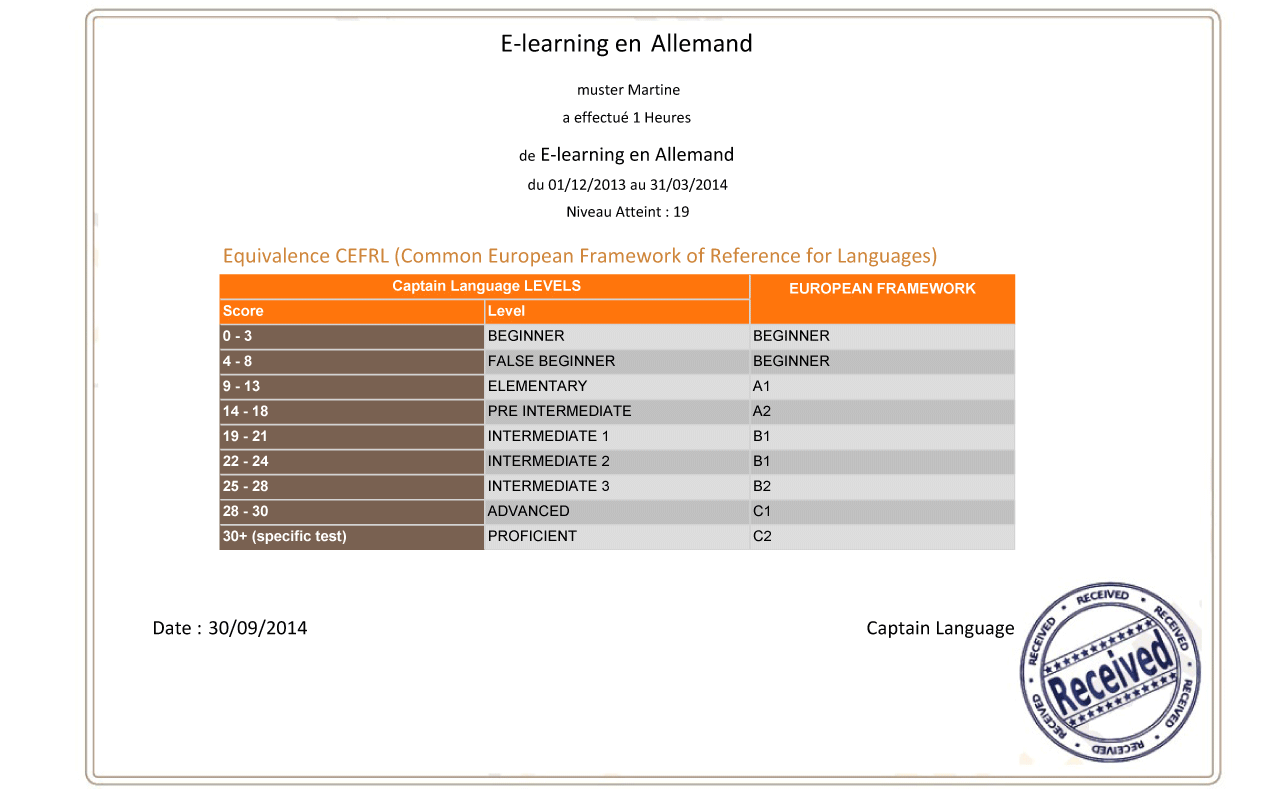 Receive your certificate
15 days before the end of your course, measure your progress by completing a new level test. You will then receive your certificate of completion, indicating the duration of your course, the number of hours spent on the platform, and also the final level obtained. At the end of the course, you too will be a true Captain Language!